Introduction To Design
The scarcity of water requires that we think about planting lawns only in areas that are functional. Below are some water efficient landscape designs for the young professional, empty nester, and active family.
Active Family
Empty Nesters
Young Professionals
Other factors to consider in the design process include:
Improve curb appeal: Many homeowners simply want a garden to improve their home's curb appeal.

Create environmental harmony:

Some homeowners want a garden that is in harmony with the local ecosystem, attracts wildlife, and does not contribute to pollution.

Enhance the local watershed:

Some homeowners wish to have a garden in harmony with the local ecosystem that attracts wildlife and does not contribute to the pollution of the local waterways.

Escape from the hustle and bustle:

Others want a garden that creates a peaceful respite from the hustle and bustle. Protection from wind and easy access to sun, shade, or soothing sounds such as gently rippling water or the chirping of birds, should all be taken into consideration for this type of garden.

Protection from the sun:

Some specifically want their garden to block the sun's rays. Trees, overhead arbors, and buildings can block the sun's rays resulting in reduced evaporation of water.The first step in planning a garden is to ask yourself the purpose of your garden.
Design: Ali Davidson, Landscape Architect.
A relaxing morning in a sunny garden.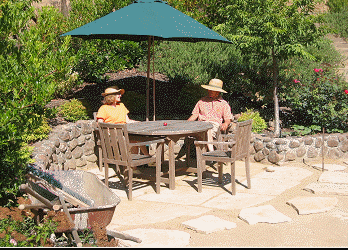 Make room for the children:

Having children in the home often means a play area may be an important factor in the design. You may wish to include a lawn and play structures such as a sandbox. It's important to choose non-poisonous, non-thorny plants and consider plants that don't attract bees and are pest-resistant.

Grow fresh fruit and vegetables:

Many would like to experience the joy of serving food fresh from their own garden. A vegetable/fruit garden needs easy access to a water source. Include a potting shed or bench.
A citrus tree can provide a nice source of fresh fruit.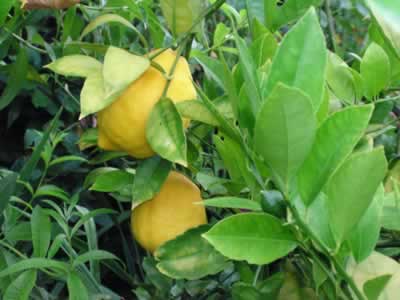 If you are not sure as to the type of garden you would like, filling out our Questionnaire may help you identify your specific garden wants and needs.
If the garden will be of your own design, basic principles on landscape design can be found in the sections titled Principles of Design and Creating the Design.